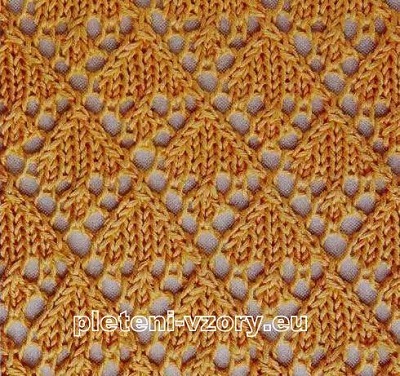 Lace in rhombs / arrows
Number of stitches: multiple of 8 + 1
Work along the graphic chart. Follow the symbols from right to left, start by stitches before the right arrow, then repeat the sequence between arrows, end by stitches after the left arrow.
Vertically follow the rows from buttom to top.
Only RS rows are displayed in the chart. Purl all stitches in WS rows.
Vertically repeat rows 1 to 32.
---
---
Symbols in the Chart:

    K1 = Knit 1 stitch  (videohelp), purl in WS


    YO = Yarn over (videohelp), purl in WS


   K2tog = Knit 2 sts together (videohelp)


   SSK = slip, slip, knit slipped stitches tog. A decrease (videohelp)


   K3tog = Knit 3 sts together (videohelp)


    SSSK = Slip, slip, slip, knit 3 slipped stitches together. (A left-slant double decrease – videohelp)
---